Pre-Payment Options
Please take advantage of the options to prepay your student's meal accounts. Prepaid meal accounts help the lunch lines go faster and gives students more time to eat, relax, and play. It also gives you the peace of mind of not having to worry about looking for lunch money every day or worry that it might get lost, stolen or used for other things other than lunch.

In addition to prepaying your students at the school through the Child Nutrition Clerk or berries, tomatoes, baked sweet potatoes, asparagus, carrots, Manager, PCSD offers online payment capability for school meals through www.MySchoolBucks.com
Online Payment System
As part of Heartland School Solutions team, NUTRIKIDS® POS provides online payments for school meals through mySchoolBucks®. Parents can access their mySchoolBucks account with the same login information they have used in the past. If you are not currently signed up to make payments online for your student/students please log in to www.mySchoolBucks.com and sign up. Registration is easy. The mySchoolBucks solution provides a number of benefits and is already live in thousands of schools throughout the United States. There is a convenience fee of $1.95 which covers all deposits made within a single transaction. For additional information and to get answers to frequently asked questions, log on to www.learnmyschoolbucks.com and follow the "Parent Resources" link.
Online Payments
Online payments are a simple, safe and secure way to make payments to your students account 24 hours a day at your convenience.
Refund Request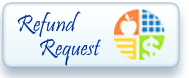 Send Check or Cash
You can always bring money personally or send it with your student. Please place it in an envelope marked clearly with your student's name, their ID #, their teacher's name, the $ amount and the check #. Turn in prepaid deposits to the cafeteria cashier(s) or school office.


If you choose to bring money to school personally or send it with your student, please put it in an envelope clearly marked with the student's first and last name, their ID #, their teacher's name, and the amount enclosed.