Menus
Did you know that we have our own facebook page, Twitter account, and Instagram? Wherever you stay connected through social media you can see actual pictures of the lunches being served, get updates on special days hosted by the Child Nutrition Program, and even see us "in the news"!
We would like for all our families to "Like" us on facebook.
www.facebook.com/ITSMealsProvo or follow our Twitter, @ITSMealsProvo or, see the amazing photos we share on Instagram @itsmealspcsd


Food and beverages served at Provo School District through the Child Nutrition Program meet the nutrition recommendations of the U.S. Dietary Guidelines and are served by qualified child nutrition professionals. We provide students with access to a variety of affordable and appealing foods that meet the health and nutrition needs of students.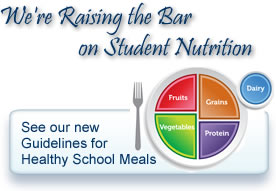 We strive to, when available and in season, use local farmers right here in Utah! This year SY 16/17 we have added a new local farm to our list of suppliers, New Roots!
Provo School District Child Nutrition Program continually strives to decrease the use of processed foods in favor of fresh and "made from scratch" recipes. This year we will be featuring several new menu choices and we look forward to a fantastic new year! Your student's health is very important to us and we want their breakfast and lunch experiences to be delicious and happy ones!
PLEASE BE AWARE THAT THE MENU MAY CHANGE AT ANY TIME DUE TO AVAILABILITY OF PRODUCT.
Provo City School District Child Nutrition Program has a no charge procedure.