Welcome to P.C.S.D. Child Nutrition Services!
A Message from our Child Nutrition Director
School year 2016/2017 brings new and exhilarating changes!
We are thrilled to have our students back in our lunchrooms filling the cafeterias with energy and enthusiasm as they enjoy healthy and nutritious meals prepared by our CNP Professionals! We look forward to providing a large variety of made-from-scratch entrees, eye appealing, colorful and delicious tasting menu items, whole grain rich foods, and an assortment of fresh fruits and vegetables daily!
Popular entrees such as the 'Bistro Hamburger Garden Bar' will continue in the middle and high schools including many tasty choices for students to add to their whole grain bun and hamburger patty such as gourmet cheeses, fresh or sautéed mushrooms and onions, tomatoes, thinly sliced cucumbers, assorted fresh peppers, arugula, spring mix, and several more! Another favorite returning this year is the 'Oodles of Noodles Bar' which allows students to choose their whole grain pasta, Marinara or Alfredo sauce, chicken, and a garden of fresh or sautéed toppings such as assorted peppers, tomatoes, mushrooms, onions, assorted squash, broccoli, cauliflower, cucumbers, peas, and the list goes on!
Some NEW and AMAZING recipes this school year include Teriyaki Chicken Lo Mein, 5-Cheese Stuffed Pasta Shells, and Pulled Pork Sliders in the elementary schools; and General Tso's Chicken, Buffalo Chicken Wraps, Hot Italian Meatball Sandwiches, and our new 'Baked-In-House' Baked Potato Bar with all the fixings at all schools just to name a few! Be watching our menus for a 'surprise' menu from our partner in healthy eating and living, Chef Mattson!
We are so excited to offer great choices, and made-from-scratch menu items! For your convenience, menus are available here and on our Facebook page.
Activities and fun in the lunchroom are planned once again! This year's theme 'Seeds of Change' is a continuation of last year's well-received theme of 'Nourishing your future. Live well. Eat well.' This theme centers on nourishing the mind and body through good nutrition and physical wellness. Visiting Provo schools on rotating schedules, Yoga Instructor, Joe Perry, will help educate students on the importance of exercise and physical activity, while Chef Mattson will focus on healthy eating and living (see Chef Mattson's profile below in "Meet the Chef"). Watch for your school's 'Yoga with Joe' and 'Cooking for Kids with Chef Mattson' specialty days in the lunchroom! Students will enjoy every minute…and laughter, excitement, health and wellness will fill every cafeteria.
Thank you for the privilege to serve your children delicious and healthy meals!
We are going to have a wonderful year in Provo City School District Child Nutrition!
Laura Larsen
Child Nutrition Director
Provo City School District
801-374-4867
Apply for MEAL BENEFITS online: Applications for School Year 16/17 are now available.

We are pleased to offer the ability to apply for Free and Reduced Priced Meals online! The process is SAFE, SECURE, PRIVATE, and AVAILABLE anytime! Printable confirmation is available, after the application has been processed, referenced as you apply online. Meal applications will still be downloadable from our website (July through May). Paper forms are also available (July-May) at school main offices and the district office - only ONE complete meal application is needed per household. (Some students will be renewed for free meals in the summer per welfare services records, with approval notification provided by our Child Nutrition Program Office via U.S. Mail per PowerSchool home mailing address information.)
____________________________________________________________________________________
The Provo School District Child Nutrition Program was honored to receive the 2016 Best of State Award for being the top Education Support Personnel group in Utah for the seventh consecutive year. This statewide award is given to outstanding businesses, programs, groups, or individuals. More than one hundred judges scrutinize the nominations for the Best of State Award. The judges sought out individuals, businesses and organizations that excel in their endeavors, use innovative approaches, and make Utah a better place to live.
Jon M. Huntsman Jr., former Governor of Utah said, "Best of State recognizes those who are excelling and surpassing all else and who are the best of the best in their respective fields."
The Child Nutrition Program is thrilled and honored to win the Best of State award for the seventh consecutive year. We are constantly trying to enhance the already nutritious and healthy meals served in Provo Schools, and to continue our yearly themed activities to increase the activity of the students. Studies show that children are better able to learn after eating a nutritious meal, and our dedicated Nutrition team is happy to do their part in helping each student be fit, healthy, and ready to succeed in school. We are proud of our Child Nutrition Program as we strive to continue to promote healthy lifestyles that will have life-long benefits.
Please enjoy the video below of our past CNP Director as our Child Nutrition Department was featured in a national School Nutrition Association, "Tray Talk" video. We know that delicious and nutritious, prepared from scratch menus, and increased activity of our students go hand in hand to make a healthier generation! We are thrilled to partner with Chefs and others to make our program the best it can be!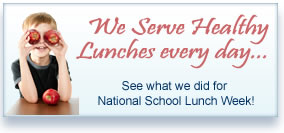 We serve healthy lunches everyday...starting with fresh fruits and vegetables galore! These include fresh grapes, melons, apples, oranges, tangerines, grapefruit, pears, peaches, pummelo, star fruit, blackberries, blueberries, strawberries, raspberries, mango, persimmons, pineapple, pomegranates, bananas, kiwi, kiwi berries, tomatoes, baked sweet potatoes, asparagus, carro

ts, broccoli, cauliflower, jicama, hummus, brussel sprouts, summer yellow squash, zucchini, acorn squash, butternut squash, a variety of peppers, cucumbers and many, many more)! wheat rolls, buns, tortillas, and breads. Healthy food choices of all kinds!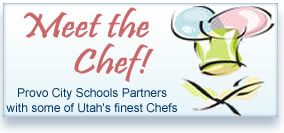 Watch for new entrees on the menu for SY 16/17

Nutritious meals with less sodium, increased fiber, lots and lots of fresh fruits and vegetables served. We will also be featuring a brand new menu item created for us by Chef Mattson Mc Farland! Click the image to the right to meet our newest Chef that is making a difference for our children in Provo City Schools!

Another way to stay connected and to see all the amazing happenings in the Child Nutrition Department..."Like" us on Facebook! Find us on Instagram @itsmealspcsd or Twitter @ITSMealsProvo